Coronavirus versus the Campervan industry?
.
If you're someone who's following us on social media, you might have noticed that we're starting to post a little more than we have been doing. I make no apologies for this as,
1.) deep down I know even though we've been tremendously busy of late, marketing should always be a top priority and
2.) with all the stuff happening in the world right now, all the uncertainty, it's definitely time to ramp our marketing efforts up as a lot of people out there will be in panic mode. They'll retreat. Hide. And quite possibly cut back on spending on "non essentials."
On the positive though, I know that no matter what, there're always people with money to spend. People who aren't that affected by whatever economic, or environmental disaster's going on. People who just want to live their life, their way and are determined to enjoy their free time.
The campervan industry will not in my opinion shrink. I mean it could for a little while, but I believe it's only going to expand. So if you're a campervan converter, campervan dealer, or a campervan hire company, you might well be frightened about the future right now and I can't blame you. But, it's not all going to go to hell in a hand basket.
YOU DO HOWEVER NEED TO START TAKING ACTION TO PROTECT YOUR BUSINESS RIGHT NOW.
Don't assume nobody will want your product. And don't try to cut expenses by stopping marketing yourself – that's false economy.
Look for the opportunities. What else could you be selling / doing right now?
And by the way, NO, there's nothing wrong with trying to make sure you not only survive the coming weeks and months, but also thrive. Business is business and you won't receive statutory. sick pay that's for sure!
It's not profiting from a disaster. It's good business practice.
So again, I hope you don't mind seeing more from us and I also hope you step up and do whatever you need to do for your business right now too.
Tina.
P.S. 2 things in one really. I've created a free
pdf guide
to help you with some ideas of stuff you can be getting on with to help you sure up your biz. The way to get it is to sign up to our brand new news letter The Latest (you could always unsub anytime if you don't want to receive our emails) In The Latest news letter I'll be sharing my thoughts on what's currently going on, tips and ideas for you to use in your own camper business and some of what we're up to here at Cube HQ and how it's all going really.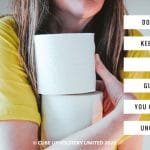 Tina.