It seems the hottest  trend of the moment is VW Campervan log burners.
 As the days are getting longer and summer's nearly here, it's time to get out in the garden (and get the paddling pool out if you have one!) It's time to make the most of the better weather – fingers crossed – by getting outside as much as you can. It's B-B-Q-ing season. At last!
Something that can help extend your time outdoors is a log burner and what better than a VW Campervan log burner?
Check out these bad boys from Creation Fabrication, a small business in Cheshire with over 20 years experience in fabrication and over 16,000 Facebook likes.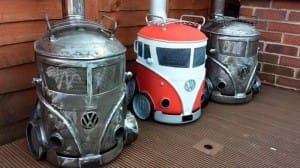 These Split screen VW Campervan log burners have stunning detailing and they even have little roof racks and look just as good from the back as they do from the front.
Who wouldn't want one of these? I know I want one. Anyone want to treat me?
Tina